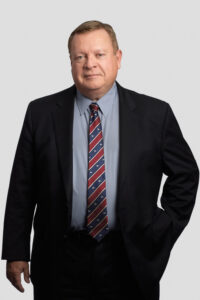 Of Counsel
760-346-3355
With over 43 years of experience as counsel in litigation and disputes — including the past 25 years focusing on Trusts and Estates cases — Jeff assists clients in resolving matters with negotiation, mediation or, if necessary, litigation — either to a settlement or to a court trial or hearing.  He will be your trusted counsel, guiding you through any complex or difficult dispute to achieve the optimal resolution. 
Since 2002, Mr. Thom has held the honorary title of Queen's Counsel ("QC"), awarded to recognize Canadian lawyers for exceptional merit and contribution to the legal profession.  He is also a member of the Advisory Committee of the Alberta branch of The Advocates Society, Canada's premier advocacy skills training provider.
Jeff has successfully represented clients in cases at all levels of Canadian courts in Alberta and British Columbia, as well as Canada's Federal Court and Supreme Court.  His numerous cross-border and international matters — and second home in Indian Wells, California — motivated Jeff to become a licensed California attorney, able to represent clients on both sides of the border and on Canadian and U.S. matters.
Mr. Thom is also Counsel at McLeod Law LLP, a long-established Calgary-based firm. Both his California and Canada practices focus on litigation and alternative dispute resolution ("ADR") involving all types of Trusts, Wills, Estates, and Probate cases, assisting trustees, executors, beneficiaries, or other parties. 
In addition to Jeff's extensive experience representing clients in court, he has significant training and experience in ADR, not only as counsel for parties, but also frequently as a respected neutral mediator in over 50 cases.  
---
Notable Work
Represented two of three joint Executors in a highly contested multi-million-dollar Canadian Estate involving complex estate accounting matters involving operating businesses and estate assets in the U.S. and Canada.
Represented high-net worth individuals to reorganize complex cross-border inter-vivos trusts and obtained Court approval for variation of Trust terms.
Represented Executors in resolving trust issues involving property and claims in multiple international jurisdictions and obtaining Court approval for resolution of significant taxation claims between competing Canadian and U.K. Estates.
Represented a professional design and engineering firm in LCIA international arbitration proceedings involving $73 Million of claims.
Education
LLB, Dalhousie University, 1977
Certificate in Conflict Management, Alberta Arbitration & Mediation Society, 1999
Certificate in Arbitration, Alberta Arbitration & Mediation Society, 2003
Jurisdictions Admitted to Practice
Alberta, Canada, 1978
British Columbia, Canada, 1992
California, 2021
Professional & Bar Association Memberships
Canadian Bar Association and Legislative Review Committee (2009 – )
The Advocates Society (2013 – )
Alberta Advisory Committee to The Advocate's Society (2018 – )
Honors & Professional Recognition
Queen's Counsel designation (2002- )
Public Speaking and Teaching
Instructor, Trial Advocacy, The Advocate's Society (2012 – present)
Instructor, Cross-Examination Skills, The Advocate's Society (2019)
How to Avoid Litigation Resulting from Train Wreck Estates, McLeod Law LLP (2019)
Ensuring Legal and Ethical Conduct by the Corporation and the Board, Federated Press (2014)
Instructor, Trial Advocacy, University of Calgary, Faculty of Law (1982 – 1991)
Publications
Practical Suggestions from the Trenches for Trusts & Estates Mediations, ADR Perspectives (2021)
Expanding Liability Horizons, Civil Liability for Secondary Market Disclosure, Corporate
Liability, Federated Press, Vol. XII, No. 2 (2007)